Too Fat For That
So, sorry about the radio silence over here. I'll admit it, I hit a low note.
See, I've sewn a helluva lot more than Ive shown. I sewn at least six or seven dresses, another coat, a couple of shirts... but my disastrous and upsetting body type is hindering me.
I sew and try really hard only to find out that the pattern is just shy of fitting me, or fits me perfect but the flattering cut is cutting up my...er... flatter. So, then comes depression, with all these fun lovelies sitting in my closet because I can't bear to see them floating about me, mocking me with their awesomeness. Ive got a ecret journal on here where I try to motivate myself for weight loss but alas, weight loss is difficult.
Anyway, as I was looking through my patter stash (Holy crap, I've got a lot of them) I found a selection of patterns that were so dear I bought them despite the fact that I am fairly positive they wont fit well on my body. Last week I brought them out and thought a thought that stopped me straight.
Why dont I make them? I've got like, a metric TONNE of woven medium weight fabric which I bought because, well... I have a problem passing up more than three yards of fabric. Some is kitschy, and some is 70's era terrible, but all can be used to make working muslins, and maybe... just maybe making these amazing patterns will do what all this other weight loss stuff I've tried has failed.
I've decided to call it my Too Fat For That and make them all anyway, in varying sizes to encourage me.
So, I mostly, like 7/8ths finished this classic, desirable dress, which I will photograph at a later date, but this is the pattern, top upper left hand corner in plum: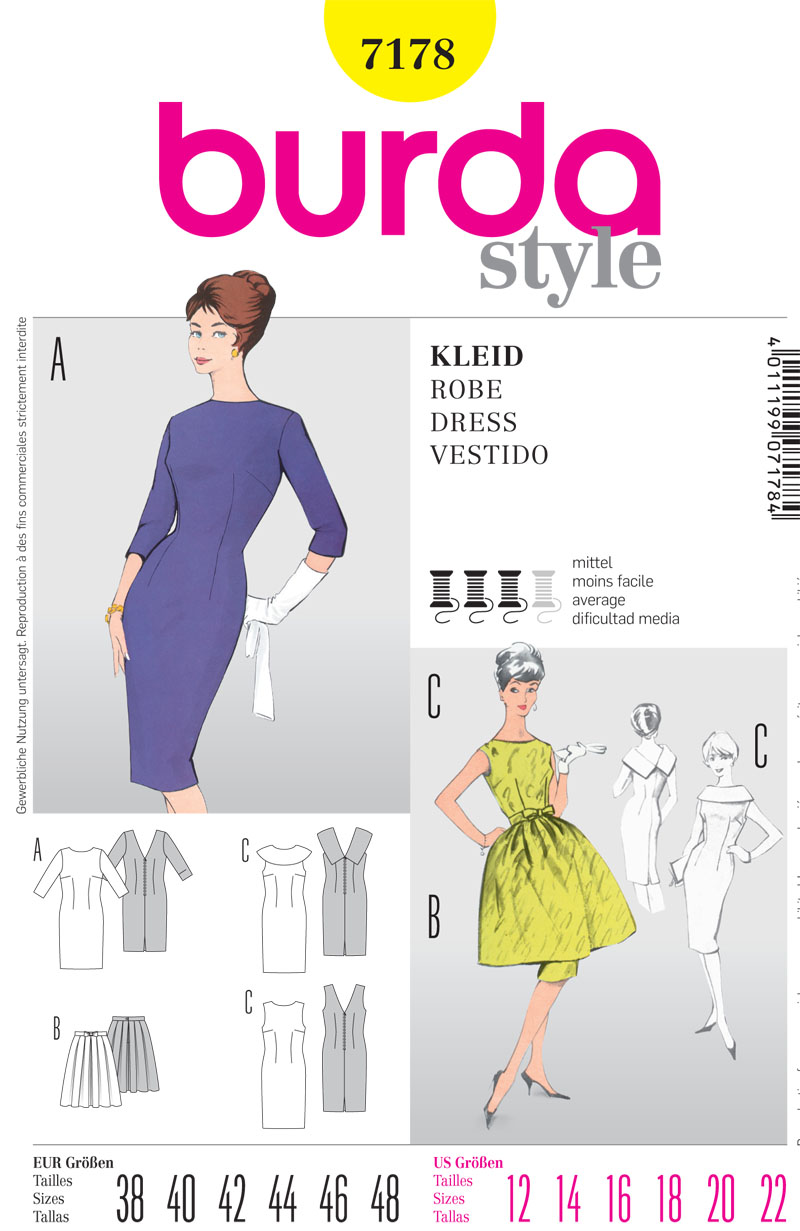 I've made it in this slinky woven fabric with a black background and what looks like dots but close review reveals tiny little two-stitch crosses in beige. Its lined and beautiful in an Audrey Hepburn, classic lovely way. My fingers CURL when I see this dress, I want to wear it that much.
I'm also working on another addition to my wardrobe, another wedding-dress-turned-day-dress. I'm using burda, because HELLO! Burda is awesome. This is the pattern:
Burda 7251
A few changes, I'm sewing up the back, avoiding the pleated train, chopping off like 10 million feet of hem, approximately, and using a cotton. Oh yes. Its green with cartoony looking wiggle snakes on in in various other shades of green with just their little hissing tongues as a nice red. The contrasting lace will be red as well, with the bolero out of the same fabric. Im wrestling with the fancy. I like my day dresses stunning, but not so whose-getting-married-why-re-you-so-dressed-up? Pattern is cut out and I imagine it'll be my weekend project.
-Holly (Send good, sewing-related thoughts my way, lol)