Regency
When I first began sewing I got this idea. See, I have a surplus of fabric, a ridiculous amount of patterns and quite a stash of thread. However, I am one of the people who has a hard time sewing something if it doesn't have a purpose. So I thought, hey, Im gonna make costumes for myself and my family and do family portraits in them!
Last year I actually made the costumes, civil war era in the theme of Abraham Lincoln's anniversary thing. However, never managed to get family pictures done in them, bummer. But Still! I sewed them. This year im thinking... REGENCY
Right? Right? Anyway, Here are the ingredients:
Burda 2747
My sisters not too info the whole Princess Twirl-a-long that I am, I mean, Im almost thirty and ID dress like Disney at the drop of a hat. So, instead of the drama of forcing her to wear a dress, I offered another option. She could cross dress as a gentleman. I have the pattern, and the only other gentleman who will be in attendance is my son. So, she opted to be a gentleman. This is the first outfit Im making.
The coat will be turquoise, the trousers an antique tan cotton, and the waistcoat a truly shocking green and blue mishmash. Technically, not historically accurate although it is POSSIBLE. In my research there are some brightly clad gentleman wandering round Jane Austen's block.
Just sayin'.
BURDA 2461
WAIT A MINUTE! Why am I making this when I made the Burda version of Regency Gentleman for my son a year or so ago?
burda 9528
Lemme let ya in on a little something folks.
Kids grow
QUICKLY
I couldn't fit Toby back in this if I had a tub of Vaseline. And, sad to say, I seem to have misplaced the pattern. So, back to Burda 2461, which I have, conveniently sitting beside me. It wont be hard at all to cut version B a little room in the front for the regency look.
I have a length of black linen-like fabric for the jacket, some suede like fabric (previously known as curtains) which will sew up nicely for the breeches, and a pale fawn cotton with white outlines of roses on it for the waistcoat, which will be made from Mccalls 4290.
Butterick 6074
This is the pattern for me and my mom,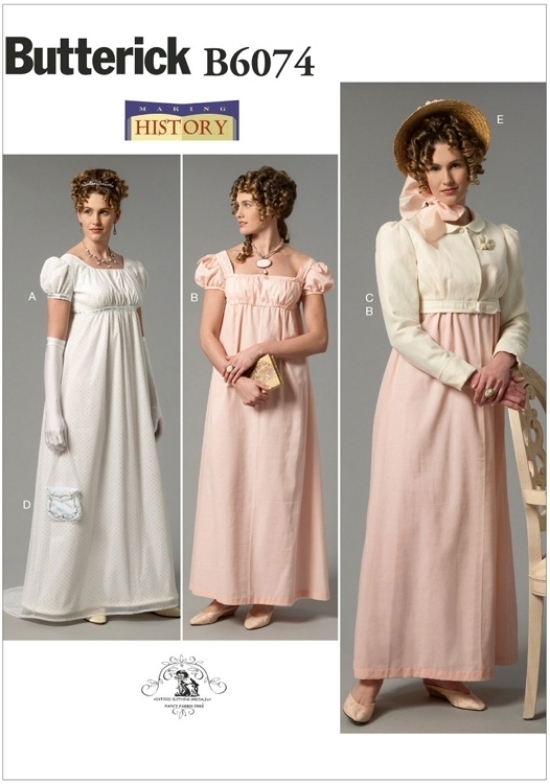 For my mom, we're going an elegant black, Ive two different kinds of semi-sheer black fabric and a whole bunch of black cotton. Probably use bodice A with B decorations and use the spencer sleeve. I prefer long sleeves, I really do.
My dress is a thin olive green, and I am definately going to embellish the skirt with lots of fabric.
Also in the ring: Ive got the Bagatelle Regency Wardrobe. I did the crossover bodice gown once before, and it turned out well. They also have a bodiced petticoat.
Last but not least, if Im feeling adventurous, I do have the Laughing Moon 115.